The other evening, I made what turned out to be a very delicious recipe for a spring salad.  The salad contained roasted asparagus, onion, peas, diced chicken breast, and celery – a true spring salad!  The homemade dressing was made with freshly squeezed lemon juice and had such a yummy, fresh taste.  I am never one to use something for just one purpose if it can be muti-purposed and this lemon was no different. 
After I made the dressing, I placed my lemon in a bowl with a small amount of water into the microwave.  I turned the microwave on for a few seconds and then used the lemon to effortlessly clean it.  Lemons are wonderful natural cleaners and I make use of them in different capacities.  To be fair, my microwave was not particularly messy because I've been trying to limit our usage of it lately;  I prefer to heat leftovers in the oven or on the stove.  They taste better that way and are healthier when reheated more slowly.  I must confess we haven't quite given up the microwave completely.  I often heat water for my tea in it just because my moments for enjoying tea are short enough as it is and I don't want to spend a part of them standing over the stove waiting for water to boil. 
  We'll also use it to reheat food when we're really in a hurry.  Anyway, I digress!  The lemon smelled wonderful and worked beautifully as a cleaner.
I wish that I had thought to slice it and place it into a pot on the stove after cleaning the microwave, allowing it to be repurposed yet again as a clean, fresh smelling all natural air freshener.  Still, the dressing and microwave cleaning wasn't bad use for a lemon that cost 39 cents. 
These aren't my only uses for lemons.  I have lots of delicious lemon recipes and have used them in other ways with homemade cleaning products, but these are at least a few uses for a lemon. 
How do you use your lemons?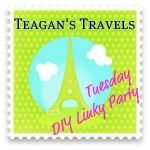 No related posts.